Food Safety
Best Practices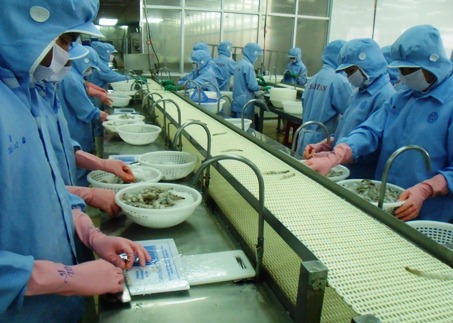 Through Hanwa, Seattle Shrimp & Seafood has offices and inspectors throughout every major production region. The majority of seafood we handle has been purchased by our own people after their inspection at farms or production sites. Many of our suppliers have been working with Hanwa for more than 25 years. Additionally, our product is inspected upon entering the US by Seattle Shrimp employees and USDC inspectors.
Each of our production facilities operates in full accordance with HAACP and FDA guidelines, and we only buy our shrimp from Best Aquaculture Practice (BAP) certified suppliers. Every item we sell is guaranteed to be 100% net weight, properly labeled and shipped from the Country of Origin with correct and compliant documentation. All our products are correctly identified with accurate nutritional, ingredient and manufacturing labels, including COOL requirements (Country of Origin Labeling). Through Hanwa, we also participate in C-TPAT, a voluntary government-business initiative to strengthen and improve the international supply chain and U.S. border security.
Seattle Shrimp & Seafood supports and promotes the expansion of certified wild caught seafood through the Marine Stewardship Council and farm raised seafood through the Global Aquaculture Alliance and their Best Aquaculture Practices program. All Seattle Shrimp & Seafood products are currently traceable to their production facility and date and we are working diligently with our fisherman and suppliers to achieve consistent traceability to vessels and farms.