Scallops
Scallops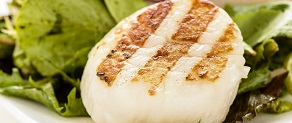 Seattle Shrimp & Seafood sources wild Sea Scallops from the Northern Hokkaido region of Japan for packer brands. And farm cultivated Sea Scallops from Japan will be sold soon under our Ocean Gift® brand. Both our wild and cultivated sea scallops are 100% natural and sushi & sashimi grade. High in protein and with no saturated fat, scallops are healthy, versatile, delicious, and easy to prepare.
Product Forms:
IQF, Whole, Sushi & Sashimi Grade
7/9 – 28/36count per lb.
Packaging: 30 lbs., 33 lbs.
Retail:
Packaging: 1 lb. (16 oz. bags)
Species: Sea Scallop (Patinopecten yessoensis)
Harvest: Wild
Country of Origin: Japan
To support sustainability efforts, Seattle Shrimp & Seafood strictly follows seasonal wild sea scallop fishery quotas as established by the Japanese government.